Restaurants & Bars
Flavors from around the world, fresh ingredients, imaginative recipes and masterfully-trained chefs amount to cool dining concepts and compelling cuisine that will please even the pickiest palates. Fulfill every craving with Wyndham Alltra Playa del Carmen's impressive lineup of on-site restaurants, spanning from casual poolside eateries to fine dining experiences. When you need some downtime, simply order from our all-day room service menu. The best part: everything's included with your stay.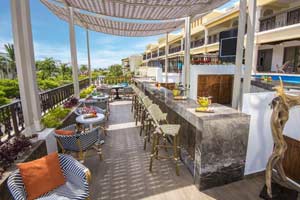 Off The Hook
Sushi
This rooftop lunch spot specializes in mouthwatering nigiri and sushi rolls complemented by innovative cocktails. Daily Hours: 11 a.m.–6 p.m.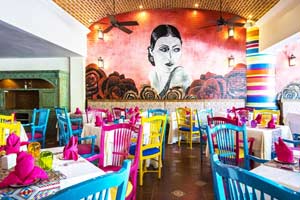 ZARAPE
MEXICAN CUISINE
Authentic Mexico at its most delicious with warm hacienda décor and vibrant local flavor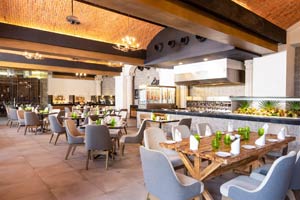 Brasas
Mexican
You'll love the flavorful tacos, alambre dishes, and other small plates at this casually elegant Mexican eatery. Daily Hours: 6–10 p.m.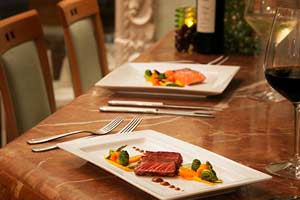 Bella
ITALIAN CUISINE
Explore the rustic cuisine of the Italian seaside with artfully prepared dishes of pasta, seafood and meats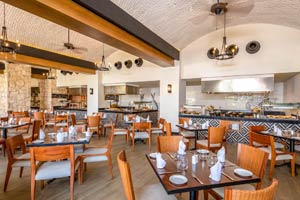 Ventanas
Buffet
Enjoy a sprawling buffet of impeccably prepared global favorites as well as beautiful Caribbean views. Breakfast: 7–11:30 a.m. | Lunch: 12:30–5:30 p.m.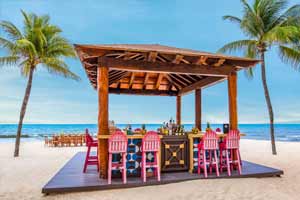 MOre Restaurants & Bars
Kaa Bar & Lounge
Stay for the fantastic drinks and live music in our buzzing lobby bar. Daily Hours: 11 a.m.–11 p.m.
Café México
This inviting coffee shop offers classic coffees, specialty drinks, pastries, and sandwiches. Daily Hours: 6 a.m.–10 p.m.
Las Olas Bar
Let our expert mixologists whip up a margarita while you admire ocean views. Daily Hours: 11 a.m.–6 p.m.
Quick Delights
Grab self-serve snacks and drinks any time of day or night. Daily Hours: 24/7
Agave Bar
Sip your favorite cocktail at this charming seaside bar. Daily Hours: 11 a.m.–9 p.m.